Welcome to the
Tykes'

Stirrings

Web Site!

An amalgamation of Tykes News (West Yorkshire) and Stirrings (South Yorkshire)

Tykes Stirrings is a quarterly print magazine about folk music, song and dance. It covers Yorkshire and surrounds, and is read by people as far afield as the US and Australia; even by one or two in Lancashire! You can find out more about Tykes Strrrings and its history by entering

Tykes Towers

.

Note our new new address: tykesstirrings.org.uk. If you have a web site with a link to the old Tykes News or Stirrings address we'll be much obliged if you could update it.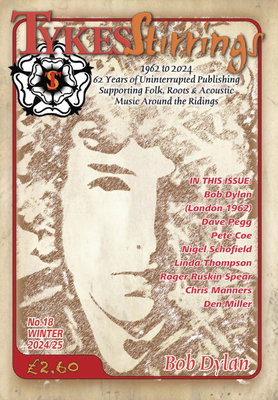 Tykes

Stirrings


Winter Issue
No 14: Winter '23/'24
THE LAST LOAD HOME – an important notice
TykesStirrings will cease publishing with the Winter 24/25 issue, one year from now. This means that the next issue – Spring 2024 – is the last yearly subscription we will be offering. Neither will we be offering four issue ad deals – it's buy by the issue from now on, chaps.
The reasons and time-line are outlined in the magazine, and as you can imagine, it has not been a simple or easy decision. The plan is to allow subscriptions to run out naturally, with no-one owing anyone anything. There will be individual copies available through the year, but at a price yet to be determined. Club and retail sales will not be affected, still being available, issue by issue, through the year.
In sadness,
Jim Ellison
Nigel has much to say in the editorial, see some snippets over on the Current Issue page.
In the mean time - and to bring you down to earth - here's a reminder of our stripped down advertising costs!
Ad prices for 2024

| PAGE SIZE | CLUB | NON-CLUB |
| --- | --- | --- |
| Full: 190x130mm | £34 | £42 |
| Half: (Landscape) 90x130mm | £20 | £26 |
| Half: (Portrait) 190x62 | £20 | £26 |
| Quarter: (Portrait) 90x62 | £14 | £20 |
Now pop over to the
Current Issue
page and see what we've managed to bring you in TykesStirrings No.13
Nigel & Jim
About Tykes Stirrings
Copy Dates
| | |
| --- | --- |
| Spring | 20th Jan |
| Summer | 20th April |
| Autumn | 20th July |
| Winter | 20th Oct |
Periods Covered...
SPRING : March/April/May
SUMMER : June/July/August
AUTUMN : September/October/November
WINTER : December/January/February

Advertise
It pays to advertise! Full rates, copy sizes and online payment links are on the advertising page.
advertising
Subscribe
Treat yourself to a year's subscription, at only £16 UK,inc. p&p. We are open 24 hours a day so come on in and spend spend spend!
Subscribe
Filofolk

This is the more dynamic and light-on-its-toes version of Tykes' News' Filofolk listings pages.
Tykes' Towers

Meet the rambling inhabitants of the rambling pile that is the historic home of Tykes' News and discover their shameful secrets.
Tykes´ Towers
Cookies

We use cookies to give you the best possible experience on our website. Learn more on our cookie policy page.
cookies and privacy